Welcome to celebration week with Scrap-Mart!! Designers have teamed up to bring you a week long mini blog hop full of beautiful projects. If you are just joining us, hop on over to the Scrap-Mart Blog and start there.
For my projects, I wanted to create something sophisticated but also quick and easy.  I know asking for the moon right??  Well you're in luck!
Easy sophistication is so simple to achieve! The designs of the STUNNING tags sets will bump any project up on the sophistication scale. Looking like a million bucks no longer means hours spent in the studio!  Let  me show you how I was able to achieve this look in a matter of just minutes.
For my first card, I decided to use the white pearls along with the Spellbinders™ Fancy Two Tag Die S5-030 cut out in cream cardstock.
I simply added my sentiment and Fancy Tags Two White Pearl rhinestones and placed it on several layers of paper.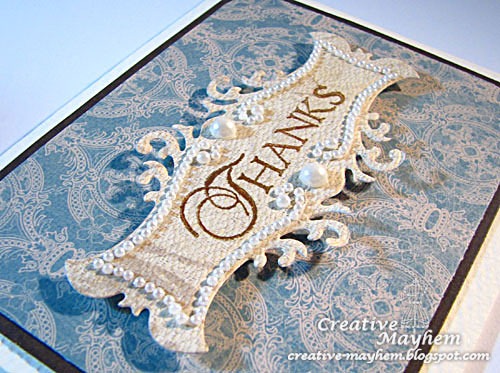 So easy . . so fun and this came together in a matter of minutes!  Beautiful bling isn't it???
Here is another project that was just as fun and even easier to come together.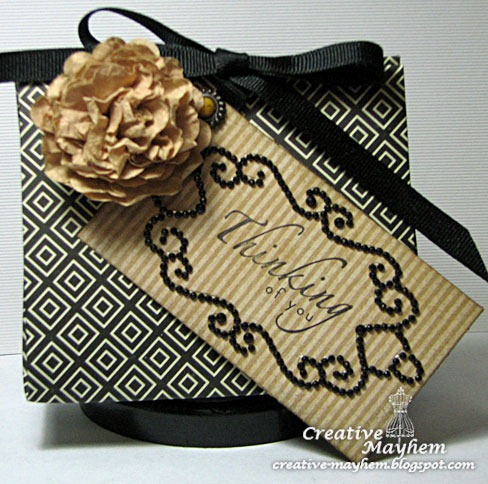 First I made a tag using Graphic 45 Tour de France paper from the Curtain Call Collection and a Thinking of You Sentiment stamp. I placed the beautiful black rhinestones around my sentiment, topped it off with a decorative brad, and adhered it to the front of the box with Beacon Adhesive 3-in-1 glue.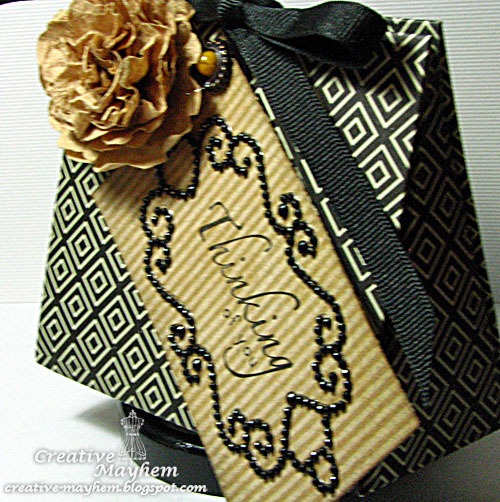 I finished the box off with some ribbon and a handmade flower and voila!  This just goes to show that with a few beautiful embellishments your projects no matter how simple or elaborate will look just beautiful!
Supplies
Paper:  Graphic 45 Tour de France paper from the Curtain Call Collection, Misc from stash
Stamps: Thinking of You Sentiment stamp
Ink: Staz-on Black, Time Holtz Distress Ink Vintage Photo
Dies:  Spellbinders™ Fancy Two Tag Die S5-030
Accessories: Rubber Café Sponge Brushes, Beacon Adhesive 3-in-1, black rhinestones, white pearls
I hope this inspired you today to create some fun, easy, and beautiful cards for your loved ones. Now hop on over and see what our talented friend, Katie Scrap-Mart Blog has created for you today!
If you are just joining us, here are the links to all the very talented ladies participating in this celebration of Nestabling!
Sunday, June 26th
Scrap-Mart Blog (Jenn)
Terre Fry http://www.terresscraptherapy.blogspot.com/
Monday, June 27th
Scrap-Mart Blog (Mindy)
Tuesday, June 28th
Scrap-Mart Blog…Guest designer…Dana Gustafson http://paperdaydream.blogspot.com/
Heidi Blakenship http://embellished-dreams.blogspot.com/
Wednesday, June 29th
Scrap-Mart Blog (Laurel)
Thursday, June 30th
Scrap-Mart Blog (Katie)
Michele Ciola http://creative-mayhem.blogspot.com/ (<—THAT'S ME)
Friday, July 1st
Scrap-Mart Blog (Karen)
Saturday, July 2nd
Scrap-Mart Blog (Eva)
Elise Durenberger http://www.mamacowcreations.blogspot.com/
Thanks for stopping by!